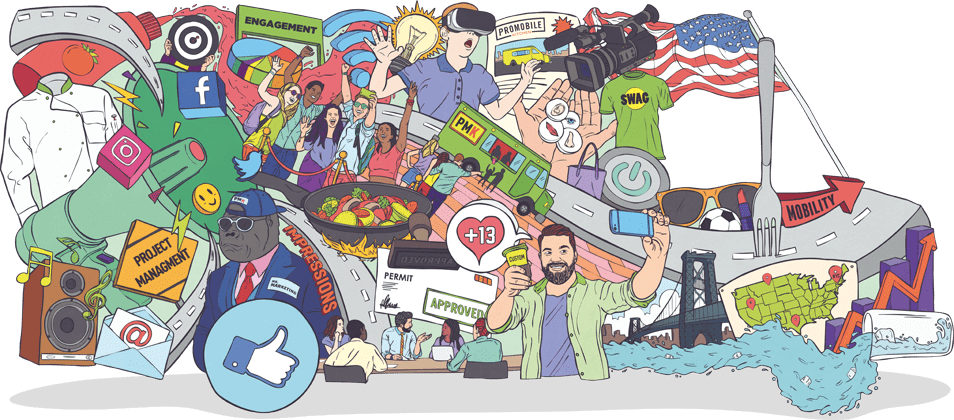 What makes an experiential marketing campaign successful? Your strategy will be different depending on the brand you want to promote, and what your goals are. But successful experiential campaigns share a few elements that can be applied across the board.
When done well, an event—and your brand—can live forever in your audience's mind.
Here are the elements you should incorporate to pull it off to maximum effect without a hitch.
1. Personalization
Use audience data to make a one-of-a-kind experience that truly targets what your buyers want.
Consider buyer habits both in real life and online. Take their preferences and cultural interests into account. Find out where your ideal customers are engaged on social media, and locations they frequent.
All of these elements should contribute to the decisions you make when deciding on where your event should be, which experience you offer, and how you offer it.
Put your customers first to make the experience all about them, not your products. The benefits your products and services provide connect you to your audience. When you build an experience around your buyers, you build positive brand impressions, loyalty, trust, and bring value to your customers, bringing them back again and again.
2. Brand-Authentic Theme
Consider the theme and goal of your experiential campaign carefully. Again, your brand is present in the activation by incorporating its benefits and relationship to the customer into the event. A campaign with a fresh perspective should still reflect your brand mission and your relationship with customers.
Audiences often bond more with brands that they see as authentic and trustworthy. Don't veer in a new direction that will alienate your audience, but make connections with cultural interests that give them an understanding of your brand story and who you are, while appealing to their unique buyer desires.
3. Sensory Stimulation
A successful experiential campaign will get an emotional reaction from participants. Dare to use elements that help them remember your brand and feel a connection to it. The sensory element is one of the key principles of experiential marketing. Incorporate loud visuals, bumping beats, delicious smells, food to taste, and interactive displays or activities to engage visitors.
Popular experiential campaigns often have an element of surprise or feature something weird and wacky, causing people to pull out their phones to snap pictures, or even better, get involved. Don't let the entertainment factor keep you at a distance, though. This is the time to interact with your customers and show them your personality so that they connect your brand with a face.
4. Mixed

Media
When you design your event, incorporate the latest technology wherever possible. Remain innovative in your industry by ensuring professional execution of media integrations.
Make videos so that you have assets later to use in promotions and let participants relive the experience. Add photo booths, attention-grabbing visuals, or AR and VR stations to totally immerse customers in a unique experience.
5. Sample Savvy
Make sure you provide out-of-this-world product sampling to measure the effect of your event on sales. Just remember that you can't give away anything; samples need to offer value to the participant. We wrote a post about how to do effective product sampling. Read it here:
6. Social

Media
Social media is a must-have for your brand and events to stay top of mind with your audience. An active presence will help you create buzz in advance of an event or product launch to make sure that your following knows to support the brand they love.
A deliberate and engaging social presence will connect with your audience to continually build trust, while serving as the perfect amplifier for news and announcements, before and after.
7. Permitted

Location

s
Picking the location for you event is vital. You want to be where your customers are. And your approach to getting there might be creative. But you want to make sure you have all the city permits well in advance, especially if you take your campaign on the road.
If you're renting street or building space, this tip remains true. Leave ample time to organize your assets, including location needs, before you start planning your event or campaign. Location changes everything.
For extra versatility, why not put your event on wheels? Go anywhere you want with one campaign. Get in touch to learn more about what we can do for your brand activation: