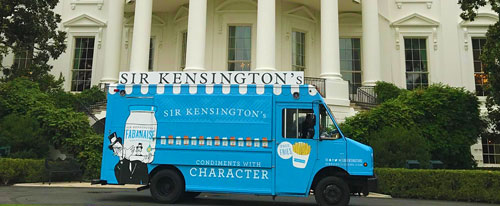 Sir Kensington's, a NYC-based company that makes "condiments with character," wanted to raise awareness and sales of Fabanaise, the first vegan mayo made with aquafaba (the water left behind after cooking chickpeas) which replaces eggs in traditional mayonnaise.
They were working with Whole Foods Market, a key retailer of Sir Kensington's products, to promote Fabanaise through in-store samplings, signage, geo-targeted Facebook ads, and flyers. However, Patrick Jammet, Sir Kensington's VP of marketing, wanted more than traditional "try and buy" promotions. "We wanted high energy, high impact marketing to capture the public's imagination and raise awareness of our new Fabanaise product while driving in-store sales and strengthening regional relationships," said Patrick, "but without spending huge sums of money."
That's when Dominick Tomanelli, CEO and co-founder of Promobile Kitchen, stepped in with a bright blue food truck, emblazoned with the Sir Kensington's logo, to hand out free samples of Fabanaise at Whole Foods Market stores. "Basically, these trucks would be a multi-sensory billboard for Fabanaise." said Dominick. "The Fabanaise FRY Truck Tour was the perfect solution."
So how did a Fabanaise Food Truck end up at the White House?
On October 3, 2016, President Obama invited creative thinkers nationwide to the South by South Lawn (SXSL) festival to discuss ways to tackle the country's toughest challenges. Several innovative food vendors were also invited, including sweetgreen, a local health food restaurant and favorite of First Lady Michelle Obama. This restaurant already served Sir Kensington's products and felt that their "condiments with character" would be a good fit for SXSL, so they suggested that Sir Kensington's participate as well.
The Fabanaise Tour was on the road when the SXSL invitation came through. "We knew that our food trucks could offer more than the conventional table under a white tent," said Dominick. "The truck was actually scheduled to be in Philadelphia that day, but we quickly rerouted it to make the event in D.C. Both the Fabanaise product and the food truck were a big hit with the SXSL attendees and with White House staff."
"I was amazed at the flexibility of Promobile Kitchen," said Patrick. "Obviously, the opportunity to support the SXSL event—at the White House, no less--was a fantastic way to promote Fabanaise. The fact that Promobile Kitchen could reroute the tour at a moment's notice, with all the required food samples and supplies, shows how responsive and effective the food truck strategy can be."
A Win-Win Situation
The Fabanaise Food Truck Tour was scheduled to visit 21 Whole Foods Market locations in New York, Philadelphia, and Washington, DC. There was just one problem.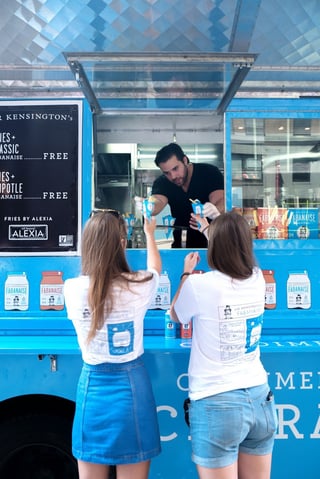 "We knew that once customers tasted Fabanaise, they would like it and buy it," said Patrick. "but it is, after all, a condiment. We really needed to serve it with something that paired well with Fabanaise. A co-branding arrangement with Alexia all-natural fries provided the solution. This really was a win-win situation for both Alexia and Sir Kensington's."
Alexia provided the fries for fry cones that were customized with a special "dipping pouch" for Fabanaise. In return, Alexia received brand exposure and couponing opportunities.
"The Alexia fries were simple and tasty," said Dominick. "So the focus could remain on the flavor of Fabanaise. In addition, both Alexia and Fabanaise were sold at the Whole Foods Market that the food trucks were visiting."
"We saw this as a great opportunity to interact with potential customers who would buy Fabanaise on a regular basis, and create exposure for the brand," said Patrick. "We also created enthusiasm for the product among Whole Foods employees and managers. This was another win-win situation. The greater the awareness and excitement about Fabanaise, the more potential to increase sales, which benefits both Sir Kensington's and Whole Foods."
The Fabanaise Truck Tour surpassed targets for the distribution of fry cones, coupons, and recipe cards. Fabanaise sales spiked on the day of the activation and even three days later, sales were still double at Whole Foods Market tour stops.
"The food trucks are an effective marketing strategy. They're versatile and scalable. Each visit brought more traffic and buzz to the locations we visited, and expanded our visibility with customers and store personnel."
- Patrick Jammet, VP, Marketing, Sir Kensington's
The Road Trip to Dip Tour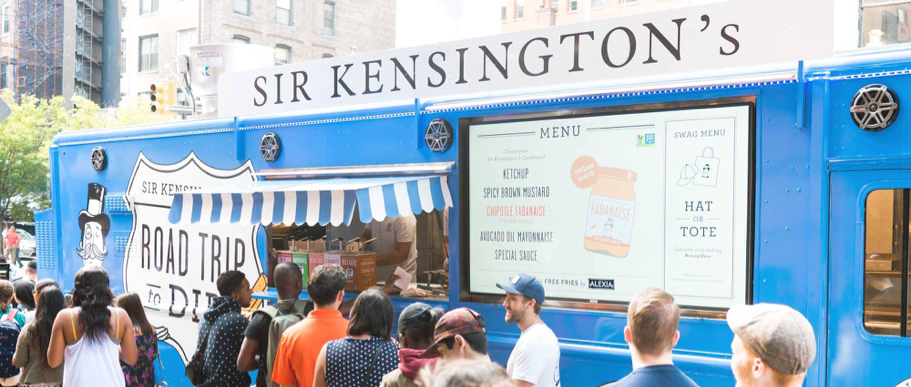 Sir Kensington's was so impressed with the results of the Fabanaise food trucks that they hired Promobile Kitchen for a second campaign—a national Road Trip to Dip tour, highlighting more of Sir Kensington's condiments from avocado oil mayo to chipotle Fabanaise to "special sauce." "The goal was to sample as much product as possible by expanding to additional retailers, reaching new customers in new markets, and providing marketing support to solidify relationships with current store buyers and executives," said Dominick.
The Road Trip to Dip Tour was designed and executed to make a big impact. Launched on the east coast and west coast simultaneously, two trucks set out to hit major metropolitan areas with sampling.
To amp up the buzz in Chicago and DC, top local chefs participated in FRYday Battles, and competed to develop their own fry recipe with a Sir Kensington's product. A consumer taste test picked the winning chef who received $5,000 for the charity of their choice. Since there are no losers with a Sir Kensington's product, the runner-up received $1,000 for their favorite charity, too.
While the food trucks gathered impressive crowds on their own, Sir Kensington used social media to maximize marketing impact and increase brand awareness. In addition to giving out free fry cones and Sir Kensington's samples, each food truck was outfitted with a photo booth. Cool Sir Kensington's-branded swag, such as tote bags and hats, were given out daily to consumers who sampled the product and posted their photos on social media at #roadtriptodip. "We knew the potential to create huge exposure for the brand by talking about it on social media," said Patrick. "And it worked! We've just passed 100,000 total samples."