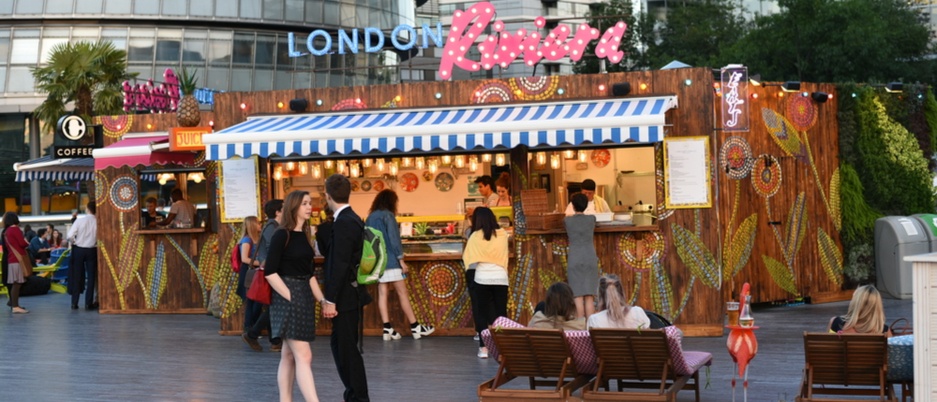 Experiential promotions have taken off in the marketing world because marketers have figured out that creating authentic events lead to long-lasting authentic impressions. But experiences come in all shapes and sizes depending on your product, brand, and values. What they inevitably have in common are genuinely passionate execution, and an element of surprise – teams that have fun putting on campaigns can go places they never thought they would. Pictured above: Passersby enjoy London Riviera, a popular pop-up food and drink experience in London, UK. singh_lens / Shutterstock.com.
A fresh experience associated with a brand can both engage new audiences and delight loyal customers. Here are some of the trending experiential campaign formats that are capturing audiences' attention everywhere.
Pop-Ups Won't Stop
The pop-up shop is a retail phenomenon that has exploded in the past couple of years. Brands really want to be everywhere, and unless you have a branded vehicle on hand that can take your promotion anywhere, the pop-up is your next best option.
Pop-ups range from restaurant concepts to retail experiences and immersive "museums." Remember the Glade experience dubbed The Museum of Feelings? Visitors waited on lines that stretched the length of the North Cove Marina in Manhattan to take the interactive tour.
The pop-up concept's goal is to provide a distinct sense of a brand instead of a wide range of options to buy. Pop-up experiences provide more than instant merchandise purchasing power – they offer excitement around "limited edition" locations and one-of-a-kind opportunities not usually available in the area, giving a boost to brand buzz. It also gives online-only operations a chance to connect with impromptu buyers (or regulars) in person.
Some examples that caused a stir include Games of Thrones-themed bars, JT's merch shop, and the Refinery29's 29Rooms "funhouse" featuring Insta-friendly interactive art exhibits.
PromoCon
Events these days aren't just sponsored by brands; they embrace brand ethos and inject their identities into every aspect of an experience. And people love it. Why? Because events developed by brands have distinct identities driving authenticity down to each detail, tailoring the experience to one philosophy and targeting a specific audience.
Whole conventions, conferences, concerts, competitions, and festivals can be built around one brand. Events can overlap with pop-ups, exist solely on social media, or be a one-time large-scale phenomenon. The opportunities are endless if you're willing to bring your brand concepts to life for your audience and their lifestyle. Super-brand Amazon, for example, is taking on exclusive concerts with Prime Live Events, "unique concert experiences exclusively for Prime members."
Few events offer more storytelling opportunities than sports, which are obviously inherently eventful. More than silent sponsors, brands have become essential event partners, as in P&G's 'Thank You, Mom' ads for the Olympics, or can even be the main attraction, like the stunt events arranged around Red Bull.
Stream of Social Consciousness
Growing in popularity is social consciousness (CSR, or corporate social responsibility). Brands and organizations manage to strike a chord of resonance with audiences by highlighting their values through involvement with social causes. Environmental responsibility and sustainability are big in retail, while cosmetics companies often focus on the beauty within.
Essentially, consumers want to know that companies care. CSR campaigns tend to be among the most-shared campaigns on social media. A great way to go about a socially conscious campaign is by seeking out collaborations with nonprofits. The sock company Bombas, with their "One Pair Purchase = One Pair Donated" model, sells socks that are meant to give back, hugging not only its wearers' arches, but their conscience. Participants should be aware of authenticity here – missing the mark can mean executions that are as bad as intentions are good.
Follow the (Influential) Leader
Influencer marketing has gone beyond Red Bull brand ambassadors. Brands now pay big bucks for people with followers to advertise their products on social media. Celebrities are now taking on mini-sponsorships by recommending brands or products for a price.
Influencers with big followings that present brands in a positive light and present their lives as better with a product get the most engagement, and bring the most buzz to companies. Some brands market almost exclusively with influencers, by creating engaging aesthetics without the cost of a campaign – someone else does all the promoting for you. Transparency here is key, as with any campaign that aims to build trust with its followers.
The Mobile Module
The marketing space is more cluttered than ever. Many brands are trying pop-ups and events. So how do you stand out in the crowd? A few brands are supplementing their regular promotions by bringing experiential packages to their audiences. Promotional vehicles allow brands to combine experiential formats custom fit to core values, and consumer benefits with the ability to easily replicate the activation in multiple locations. Like pop-ups, promotional vehicle marketing offers everything all in one: sampling, events, front-and-center visibility, and endless possibilities for customer contact interactions. Mobile campaigns are more than billboards on wheels – they can take your brand further and reach more people than a stationary activation, building impressions as you go.
Promobile Kitchen has turned the mobile module into out-of-the-box campaigns for big brands in NYC and beyond. Get in touch to explore what we can do for your brands to boost impressions.